Whitfield Lovell (b. 1959)
Lives and works in New York City

Whitfield Lovell's allegorical compositions draw from the collective memory of the African Diaspora. Collecting photographs and antique household objects, Lovell transforms his subjects from anonymous portraits into stunning reincarnations of a forgotten past. His pieces reconstruct the everyday lives of African Americans who lived in the time after the Emancipation Proclamation and before the Civil Rights Movement, a group vastly underrepresented in historical context.

As a child, Lovell marveled at the process of photography as he watched his father develop family snapshots in a dark room. The intrinsic value of family photos became instilled in him from a young age, and is evident throughout his body of work. He was inspired by "the timelessness of ordinary events…those things that have occurred and gone unnoticed." Looking through old portrait photos of African Americans, Lovell felt an inherent bond to the nameless faces, as if any one—or all—of them could have been his ancestors, and this shines through in his work: "The importance of home, family, and ancestry feeds my work entirely." With his mixed-media works, the things that have gone unnoticed are now revived.
The Card Pieces
This series of fifty-four drawing/playing card assemblages reflects on "an implication of destiny, one's lot in life, of chance, a gamble," according to the artist. Notions associated with playing cards—social activity, family tradition, even gambling—tie in with Lovell's artistic focus on heritage and ancestry.

Each piece in the series consists of a drawn facial portrait juxtaposed with a playing card. While cards are often associated with the concepts of chance and randomness, Lovell deliberately paired each card with a particular drawing. Taking the color, suit, and value of a card into consideration, he compared each card's features to the features of his portraits. The symbolism behind the cards, (i.e., hearts representing love, clubs representing labor), adds a visual cue to the portraits, suggesting details about the subjects' personas.

Additionally, the shape and color of the selected suit augments the portrait's appearance: red tones provide for a warmer-looking image; black defines the features and gives the composition a more weighted feel. Lovell also found that using face cards, with their detailed features and rich colors, could either be distracting or enhancing to the overall piece, depending on the portrait the card was paired with. All of these factors played into the process of selecting a card to pair with a drawing, but above all, Lovell relied on his own intuition. "It's just like, I just really felt that woman's face, and those two hearts, and that's just what I did."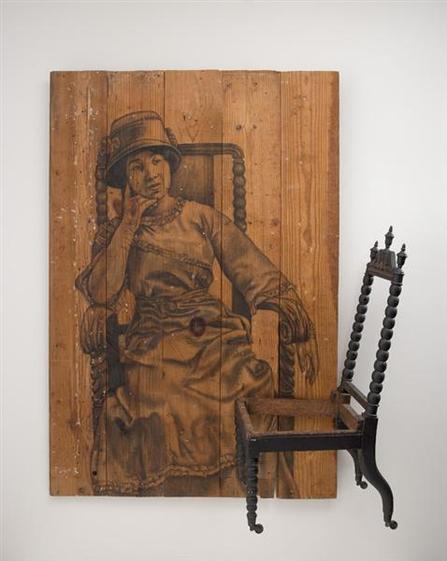 "Rumor: the Company You Keep"
Charcoal on wood, found object
2001
Rumor: the Company You Keep
Whitfield Lovell is revered for his assemblages made from charcoal and Conte crayon portraits on found pieces of wood, placed alongside antique objects. His tableaux, as he calls them, create a strong interplay not only between the subject of his drawing and the found object, but also between the piece and the viewer.

Rumor: the Company You Keep is a portrait of a seated woman, drawn on wooden planks, along with an actual antique chair that is situated against the lower-right hand corner of the piece. Her fancy dress, and the extra, empty chair suggest that she is either with or expecting company. Her distant, contemplative gaze leaves the viewer to ponder what her relationship is with the other person or people in question. Lovell explains, "when I was doing this, I was thinking about community… the chair representing the people out there who make up your community. She has such a wonderful sort of empathetic clam, and I feel that this piece is about her in relationship to her community. I wanted the chair to represent the 'company she keeps.'"

Molly Schoen